Sparks Brothers - What The Hell Is It This Time? (2021, 2xBDRip 1080p)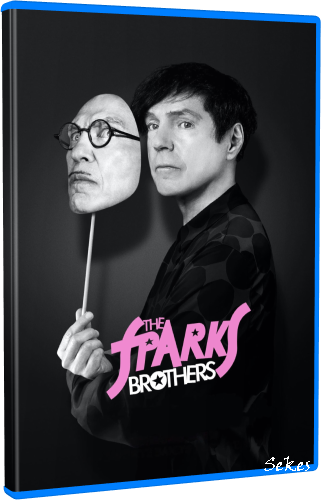 Title: The Sparks Brothers - What The Hell Is It This Time? (Live in London 2018)
Year of release: 2021
Genre: Rock, Pop-Rock, Documentary
Released: Universal Pictures
Director: Edgar Wright
Cast: Ron Mael, Russell Mael, Beck, Jane Wiedlin, Mike Myers
Tracklist:
Documentary about the band Sparks, who reinvented themselves over and over again in fifty years of band history.
It's your own favorite band's favorite band. In 1972, the band Sparks formed from two brothers, Russell and Ron Mael. While they started out as glam rock, by the early 1980s they were considered the forerunners of synth pop, which gave bands like Pet Shop Boys and Depeche Mode a global career.
They moved on to techno sounds in the 1990s and continue to provide gems of pop music that have influenced bands like Franz Ferdinand, Red Hot Chili Peppers and the Sex Pistols throughout their career. Arguably their most famous song is "When Do I Get To Sing 'My Way'" from 1994, to date they have released 25 albums and 345 songs. However, the gigantic fame remained denied to them and also about their private life is hardly known.
0. Sparks Documentary Film Fanfare
What The Hell Is It This Time? (Live in London 2018)
1. What the Hell Is It This Time?
2. Hasta Manana Monsieur
3. Unaware
4. Propaganda
5. At Home, At Work, At Play
6. Tryouts for the Human Race
7. Probably Nothing
8. Missionary Position
9. Hippopotamus
10. B.C.
11. I Wish You Were Fun
12. The Rhythm Thief
13. Edith Piaf (Said It Better Than Me)
14. Never Turn Your Back on Mother Earth
15. My Way (Claude François cover)
16. When Do I Get to Sing "My Way"
17. The Number One Song in Heaven
18. This Town Ain't Big Enough for Both of Us
19. My Baby's Taking Me Home
20. Change
21. Amateur Hour
22. Suburban Homeboy
Quality: 2xBDRip 1080p
Video: MPEG-4 AVC / 5760 kbps / 1920x1080 / 23.976 fps / 16:9
Video: MPEG-4 AVC / 10600 kbps / 1920x1080 / 23.976 fps / 16:9
Audio: English / AC3 / 5.1 / 48 kHz / 448 kb/s
Audio: English / AC3 / 2.0 / 48 kHz / 192 kb/s
Subtitles: English (Docu)
Total Size: 13.73 GB
Total Time: 02:21:14, 01:35:37
Download Hoster: hitfile.net, rapidgator.net, turbobit.net