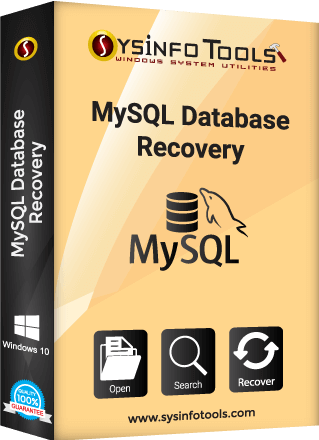 File size: 4.4 MB
SysInfoTools MySQL Recovery tool is a revolutionary solution to recover MySQL database content with utmost accuracy. It can successfully repair MySQL database and restore the database objects like tables, keys, table properties, data types, views, triggers, etc. This MySQL Repair tool contains an intuitive user interface. Even a novice user can use it without requiring any prior technical knowledge.
Salient Features of MySQL Recovery Software
Repair InnoDB & MyISAM Tables
The advanced MySQL Recovery tool can repair both the tables, i.e. InnoDB and MyISAM, used in MySQL. The InnoDB table contains FRM, IBDATA, and IDB files. And the MyISAM table contains FRM, MYD, and MYI files.
Recover MySQL Database
Via this software, you can successfully repair MySQL database and recover the table properties, relationship constraints, and keys of both MyISAM and InnoDB storage engines.
Support Database Created on Linux
The MySQL Repair tool supports the database files created on Linux systems. You need to carry the database folders and other important files from a Linux system to a Windows system in order to perform MySQL data recovery.
Smart Data Preview
Once the database file is scanned successfully, you can check the preview of the database objects which you can actually recover. The list of the database objects is shown in a tree-structure mode, and the content is shown separately on the list control window.
Save as Database
There are two saving modes in this software. You can save all the recovered data into a new fresh MySQL database. You just need to provide the information like server name, port, username, and password. Also, you can test the connection prior to saving.
Save as Script
Other than saving into a new MySQL database, you can save the recovered data in the form of MySQL scripts. You can define a location where you want to save the folder containing the scripts.
Interactive User Interface
MySQL Recovery software contains an easy and self-explanatory user interface that requires no prior technical expertise. Any technical or non-technical user can use this software with ease.
Support & Compatibility
It supports database created by all major versions of MySQL, like 3.x, 4.x, 5.x, 6.x etc.. And being a Windows system utility, it runs smoothly on Win XP, Vista, 7, 8, and all other versions including the latest Win 11.
What's New
official site does not provide any info about changes in this version.
HOMEPAGE
Code:
https://www.sysinfotools.com

Download From Rapidgator
Code:

https://rapidgator.net/file/a84e03d5ed1e49a8df25bf8f482b675e

Download From 1DL
Code:

https://1dl.net/fv4ftobk4sfe

To Support My Work Buy Premium From My Links.