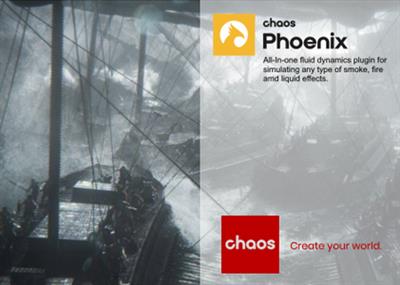 Chaos Group Phoenix 4.41.00 | 298.9 mb
Product:Chaos Group Phoenix
Version:4.41.00 for Autodesk 3ds Max 2018-2022 & V-ray 5
Supported Architectures:x64
Website Home Page :www.chaosgroup.com
Languages Supported:english
System Requirements:PC *
Size:298.9 mb
Chaos - the software developer formerly known as Chaos Group - has released Phoenix 4.41, the latest update to its fluid simulation software for Autodesk 3ds Max, itself formerly known as Phoenix FD.
4.41.00 Official release - Date: 1 June, 2021
With the Phoenix FD 4.41 hotfix we added support for the GPU preview and velocity streamline preview for 3ds Max 2022. We also added the ability for the FLIP liquid Adaptive Grid to expand based on a combination of particle channels, instead of using only the liquid particles like before. The Property Lister now supports animations for the Phoenix node properties, has multiple selection and the ability to create properties for multiple nodes at once, and also has a number of other useful improvements and fixes. We did a number of fixes for the simulation and cache handling, also allowing you to mesh huge simulation grids, and we fixed various issues on machines with many cores.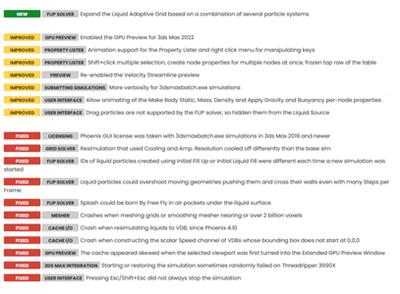 Phoenixis an all-in one solution for fluid dynamics. Simulate fire, smoke, liquids, ocean waves, splashes, spray, mist and more. Built for 3D artists who want to create dynamic FX using quick presets, fast setup and intuitive controls. Preview and render interactively in the viewport. Adjust simulations on the fly. Create all types of physically-based fluid effects with fast, flexible controls for rendering, retiming and refining simulations. Integrated seamlessly into 3ds Max and optimized to render with V-Ray. Compatible with top industry tools such as Alembic, Krakatoa, Stoke MX and OpenVDB.
Chaos - the software developer formerly known as Chaos Group - has released Phoenix FD 4.40, the latest update to its fluid simulation software for 3ds Max and Maya, itself formerly known as Phoenix FD. Name changes aside, the update adds support for collisions between floating objects using Bullet physics, a new Massive Wave Force for ocean surfaces, and colour absorption in smoke.
Phoenix 4, update 4 - now available
Phoenix 4, update 4 introduces features and improvements including collision between Active Bodies, Color Absorption and Massive Wave Force, to let artists achieve production-quality simulations in less time. This update is also Autodesk 3ds Max 2022 and Maya 2022 compatible.
Chaos Groupis a worldwide leader in computer graphics technology, helping artists and designers create photoreal imagery and animation for design, television, and feature films. Chaos Group specializes in physically-based rendering and simulation software used daily by top design studios, architectural firms, advertising agencies, and visual effects companies around the globe. Today, the company's research and development in cloud rendering, material scanning, and virtual reality is shaping the future of creative storytelling and digital design. Founded in 1997, Chaos Group is privately owned with offices in Sofia, Los Angeles, Baltimore, Seoul, and Tokyo.
Product:Chaos Group Phoenix
Version:4.41.00 for Autodesk 3ds Max 2018-2022 & V-ray 5
Supported Architectures:x64
Website Home Page :www.chaosgroup.com
Languages Supported:english
System Requirements:PC *
Size:298.9 mb

Buy Premium From My Links To Get Resumable Support,Max Speed & Support Me