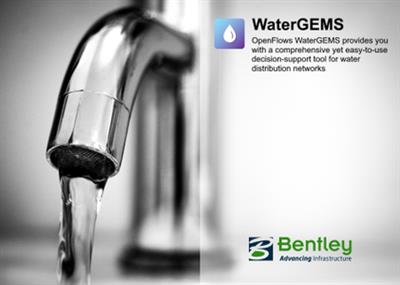 OpenFlows WaterGEMS CONNECT Edition Update 3.4 | 1.4 Gb
Product:OpenFlows WaterGEMS
Version:CONNECT Edition Update 3.4 (10.03.04.05)
Supported Architectures:x86 or x64
Website Home Page :
Languages Supported:english
System Requirements:PC *
Size:1.4 Gb
The Bentley Hydraulics and Hydrology product team are pleased to announce the availability of WaterGEMS CONNECT Edition Update 3.4 (10.03.04.05). This release introduce improvements to help you be more successful.
OpenFlows WaterGEMS CONNECT Edition Update 3.4 (10.03.04.05) - what's new
Automated fire flow report updates
Additional updates have been added to the Automated Fire Flow workflow to make it easier to get viable results and understand the results that you are seeing.
Enhanced Fire Flow Analysis in WaterGEMS & WaterCAD CONNECT Edition
Fire Flow Node Report
The Fire Flow Status field is included in the Fire Flow Node Report by default. This field is a quick reference for if a fire flow node has passed or failed, and if it failed will detail the cause.



This change will only apply to new installations of WaterGEMS and WaterCAD. For existing and upgraded versions, you will need to reset the FlexTable to the default setting in order to see the new field included by default. This can be done by opening the FlexTables manager from the View menu, right click on the Fireflow table and choose "Reset to Factory Defaults".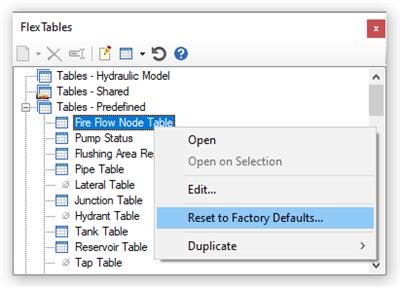 Also, the Fire Flow Node Report (Flextable) will now be automatically filtered to only display elements in the Fire Flow Nodes selection set assigned to the alternative for the current scenario. If the current scenario is not set to compute fire flow, all nodes will be displayed. This enables you to see only the fireflow nodes of interest without having to manually filter the table.
Ribbon interface Changes
The Ribbon interface for Fire Flow has been updated so you can access the fire flow constraints. Go to the Analysis tab, click Fire Flow, then select Fire Flow Constraints.



This opens the Fire Flow alternative. You can then make adjustments for the fire flow constraints for the current scenario.
User Notifications
If a fire flow node fails, user notifications are generated with information related to the cause. Details on the results can be found in the Fire Flow Node Table or the Fire Flow Results Browser.



Calculation Summary
A Fire Flow Summary tab has been included in the Calculation Summary when the active scenario is a fire flow run.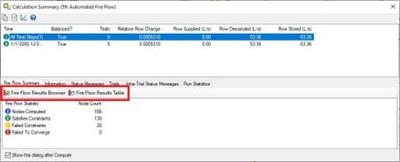 This will display the number of nodes that satisfied the constraints, failed the constraints, and failed to converge during calculation. You can also access the Fire Flow Results Browser and the Fire Flow Results Table directly from here.
AutoCAD 2022 Integration
AutoCAD 2022 integration is supported starting with this version of the OpenFlows water products. Support for AutoCAD 2021, AutoCAD 2020, and AutoCAD 2019 is also included.
Bing Maps background transparency
You can enter the transparency for the Bing Maps background, using a value from 0% to 100%. If you have an existing model with a Bing Maps background layer you can edit the background layer by right-clicking on the Bing Maps background layer and choosing Edit. When you set the transparency and click OK, the transparency will be updated.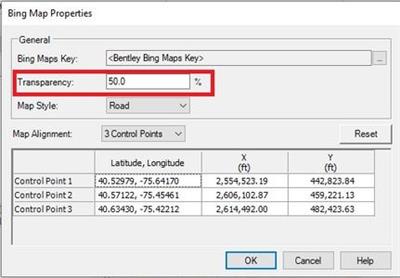 Location persistence for Select toolbar
The Select toolbar, which is used in element selection for features like Active Topology, graphs, and other features, will now reopen in the last location used after it was closed. This can be useful to avoid needing to move the Select toolbar from the middle of the drawing if you have zoomed to a given element you want to select.
Supported Platforms:
- Standalone (no CAD or GIS software required)
- MicroStation V8i SELECTseries 10 and earlier (CONNECT Edition Integration is not yet supported)
- AutoCAD 2019, 2020, 2021, 2022
- ArcMap 10.8 and earlier (WaterGEMS only)
- ArcGIS Pro 2.6, 2.7, and 2.8 (WaterGEMS only)
Model Compatibility
Models saved in build 10.03.04.05 of WaterGEMS, WaterCAD, and WaterOPS can be opened in other 10.03.XX.XX releases. Older model files can be opened in the latest version without issue.
Stability enhancements and fixes to reported issues
As with all new versions, this release of WaterGEMS, WaterCAD, and WaterOPS includes fixes to various user-reported issues from the previous release, providing an overall more stable experience.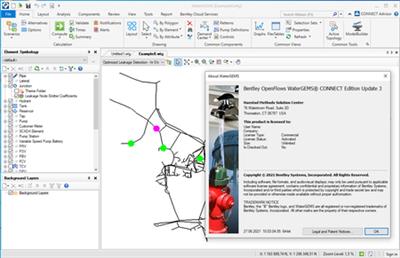 With OpenFlows WorkSuite, you can confidently plan, design, and operate water systemsof any complexity. OpenFlows technologies combine real-time intelligence with spatial analytics, delivering visibility and insights to ensure optimal real-world outcomes.
Apply OpenFlows solutions to a wide array of water-related processes, including water distribution and analysis, sanitary and combined sewer management, and flood risk assessment and mitigation.
WaterGEMSis a hydraulic and water quality modeling solution for water distribution systems with advanced interoperability, geospatial model-building, optimization, and asset management tools. From fire flow and constituent concentration analyses, to energy consumption and capital cost management, WaterGEMS provides an easy-to-use environment for engineers to analyze, design, and optimize water distribution systems
WaterGEMS is a superset of WaterCAD, so you will get everything you have in WaterCAD plus more with WaterGEMS. Model files use the same file format so files saved in the same version can be opened between both products (if the model was saved in a version less than or equal to the version of the product you're opening it with.) The user interface is identical with the exception of the tools that are not available in WaterCAD.
Water Fundamentals Training (WaterGEMS/WaterCAD)
Full training course for WaterGEMS and WaterCAD. Based on the CONNECT Edition.
Bentley Systems, Incorporatedis a global provider of collaborative software solutions that enable our users to create, manage and publish architectural, engineering and construction (AEC) content. As a part of those solutions, Bentley provides professional services including implementation, integration, customization and training.
Product:OpenFlows WaterGEMS
Version:CONNECT Edition Update 3.4 (10.03.04.05)
Supported Architectures:x86 or x64
Website Home Page :
Languages Supported:english
System Requirements:PC *
Size:1.4 Gb

Buy Premium From My Links To Get Resumable Support,Max Speed & Support Me